25th Anniversary Celebrating Our Shining Moments
25 Years of Literally Changing Lives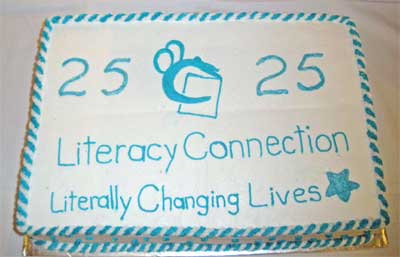 On the evening of Saturday, September 12, 2009, more than 125 learners, volunteers and friends of literacy attended The Literacy Connection's 25th Anniversary Gala at the Gail Borden Public Library. The library's lobby was transformed into a sparkling tribute to the milestones and people of The Literacy Connection over the past 25 years. Thank you to all volunteers, staff, Board members, community partners and local supporters of literacy who donated time and/or resources to make the event a huge success.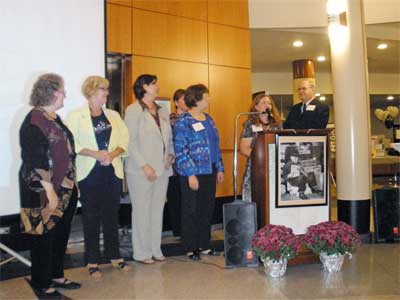 Literacy Connection Executive Director Karen Oswald presented Gail Borden Public Library Director Carole Medal and other library staff members with an award commemorating the library's ongoing dedication and support for our organization's efforts. "It all started right here (at Gail Borden Public Library)..." Karen told guests.
Senator Michael Noland and Congresswoman Melissa Bean sent proclamations congratulating the Literacy Connection for decades of service to people learning English. Mayors and village presidents of Bartlett, Elgin, Streamwood and Hanover Township also sent proclamations deeming the week of September 7-12 as "2009 Adult Literacy Week" in their municipalities.
Nationally known author John Corcoran was the gala's keynote speaker, and he shared his personal story of how he learned how to read and write at the age of 48, after years of hiding his inability to do so from family, teachers, friends and employers. He also saluted several Literacy Connection learners attending the event, giving them kudos and acknowledging the hard work they do as they improve their literacy skills to reach their goals. Corcoran's two books, The Teacher Who Couldn't Read and The Bridge to Literacy are available for purchase. Call our office at 847-742-6565 for more information.