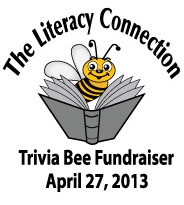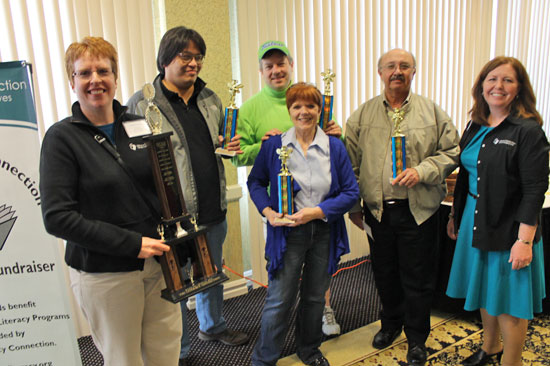 Trivia Bee Fundraiser 2013 1st Place Winners – "Bee" Team included Ralph Heubach, Margaret Margeson, Ged Trias, and Mike O'Brien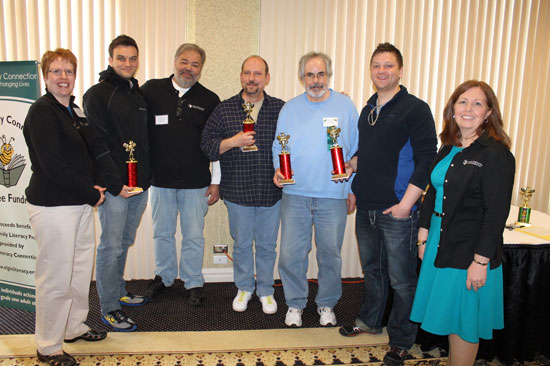 2nd Place Winners – Team Christenson included Nate Christenson, Josh Christenson, Dave Sujak, and Shawn Mikulay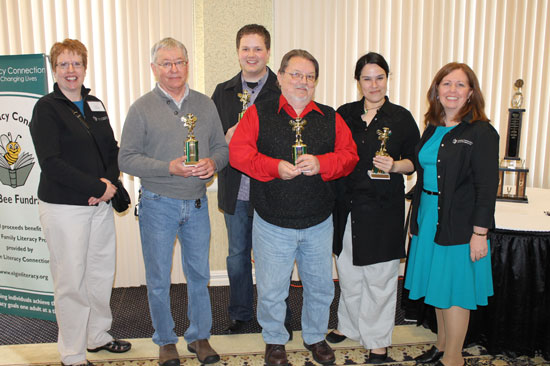 3rd Place Winners – ECC Spartans included William Demaree, Pat Parks, Tim Anderson, and Eric Long
Highlights of
16th Annual Trivia Bee Fundraiser
at Grand Victoria Casino in Elgin

Twenty-six teams from area organizations and businesses competed on Saturday, April 27, 2013, in The Literacy Connection's 16th Annual Trivia Bee Fundraiser. The popular event took place at the Grand Victoria Casino with audience members playing along on the sidelines and cheering on their favorite team.

First place honors went to the four-member "Bee Team," earning a total of 74 points. "Bee" team included Ralph Heubach, Margaret Margeson, Ged Trias, and Mike O'Brien. This is the second consecutive year that the "Bee" team won first place.
The competition took an unusual twist with a three-way tie for second place, but members from Judson University were quickly eliminated after incorrectly answering a tie-breaker question. Team Christenson and the ECC Spartans continued to battle for second place honors, with a winner finally resulting after four additional rounds of questions. Team Christenson managed to pull off the win for second place. The ECC Spartans finished in third. All first through third place team members received individual trophies, along with gift cards.

The fundraiser also included basket raffles and silent auction items. This year's grand prize raffle winner was Dave Sujak. Sujak won $500, and Howard Russo won the second place grand prize, an Apple iPad Mini. These and many other prizes are donated by businesses, organizations, community members, and Board members, volunteers, and staff of The Literacy Connection.

Special thanks to Grand Victoria Casino, Plante Moran, LeaderBoard of Chicago West, and Don Augustyn of Daydream D-Zines who were instrumental in assisting with this year's fundraiser.