20th Annual Trivia Bee Fundraiser 2017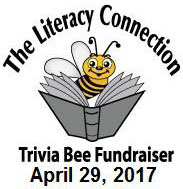 Saturday, April 29, 2017
Team check-in begins at 8:30 a.m.
Event starts at 9:30 a.m.
Grand Victoria Casino in Elgin
Register a Team
Support a Team Member or Team for Team Challenge
Sponsorship Opportunities
Donate and Help Us Surpass Last Year!
Teams are gearing up to compete in The Literacy Connection's 20th Annual Trivia Bee Fundraiser, which takes place on Saturday, April 29, from 9:30 a.m.-12:30 p.m. at Grand Victoria Casino in Elgin. The agency is looking for teams to join the competition. In order to be acknowledged in the event program and pre-event publicity, the deadline for online registration is April 24, 2017. Teams are comprised of no more than four members. Prizes are awarded to the top three teams. Registration is $400 per team. Individual groups, businesses, or employers can sponsor a team to participate.
Grand Prize raffle tickets will be on sale soon and on event day. Please call 847-742-6565 for more information. Winners need not be present. Tickets are $10 each or 3 for $20. Prizes to be announced soon!
The event will also feature a gift basket raffle. Local businesses are encouraged to make a donation to support this popular part of the event. The agency is accepting gift cards to restaurants, stores, spas/salons, entertainment venues, etc., as well as fine-quality gifts such as gourmet foods/candy, bath and body products, gifts for the home, and more.
To receive updates about the Trivia Bee, enter your email address in the field below and click the submit button.