You will make a difference: Understand how by reading learners' stories.
Ana thinks that English could have saved her job. For her to work with little English was very difficult. She loved her job, and she always tried to do all her work, even though assembling twenty parts a day was impossible. She had a supervisor telling her almost every day that she should not work at that company because she did not speak good English. At that time, Ana knew some English that she learned in the streets, but some of her co-workers did not know English. Her supervisor insulted them, and they always replied "yes, yes, yes," not realizing that they were being insulted. She could not tell them what the supervisor was telling them because she was scared to lose her job. She finally got tired, and she went to the main office to complain. Things got worse because her supervisor was very upset with her, and finally she got laid off.
Ana did not accept defeat, and she went to Elgin's Library to a group conversation with Literacy Connection and signed up for a personal tutor. She had to wait almost a year, but now, she is learning so much with her tutor. She now feels that her conversations have gotten better, and she is learning new vocabulary.
---
About the Author
Adriana M. is a student from Elgin Community College. She is from Guatemala, and she came to this country eleven years ago. She did not know any English, but with a lot of effort and attending school, she learned it. She is still in the process; however, she knows how important it is to learn English in this country. Her dream in the future is to go back to college for a degree, but she will need to wait because she is pregnant, and she wants to spend all the time possible with her newborn.
---
Benjamin sees the progress that he is making learning a new language thanks to Literacy Connection and his tutor. His tutor has helped him learn to speak and write English. Before, Benjamin spoke very little English, and he didn't know how to write. In his job, he neither knew how to communicate with his boss due to the English barrier nor how to fill out forms for the job title. After years at the Literacy Connection, he has improved so much that last December, 2013, he was able to finish his GED, and he is very proud of his accomplishments.
---
About the Author
Mario was born in Puerto Rico. At the age of 8 years old, Mario and his family moved to Belize, the border with Guatemala. Mario has 18 years of leaderships experience in distribution. Mario decided to change careers. Currently, he is learning ESL level 10 / English 101 at Elgin Community College and majoring in Human Services. Although Mario enjoyed his previous job, his passion is to volunteer and help people of different cultures. Mario said, "During my spare time I like fishing, and I also love listening to classical music." Mario's favorite thing to do, ever since he was a child, is dancing.
---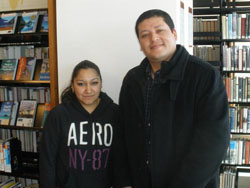 After a few years, Gaby decided to become a nurse. She knew that in order to accomplish her goal, she would have to learn English. It was going to be a long road ahead of her, but she was confident that she would accomplish her goal. Eventually, a family member was kind enough to introduce her to the Literacy Connection of Elgin, a non-profit organization that provides help to people that struggle in reading, writing, speaking or understanding English. She became a student of their ESL program five years ago. They taught her at a comfortable level how to speak and understand English. They took their time for her to understand how to put her words in writing, to use proper English, and to master punctuation. She said that she only has had two tutors during the last five years, which she thinks has contributed to create a strong relationship between them. According to Gaby, "It's not enough to be part of the problem; you must be part of the solution."
---
About the Author
Jorge is an Ecuadorian student at Elgin Community College. He studies in the ESL program and works at Presence Saint Joseph Hospital in Elgin. Jorge's dream is to become an elementary school teacher, as he said, "real changes come from seeds." He will focus his efforts on the improvement of the education system, emphasizing good manners, and values. He espouses a friendly but strict education system, where students, teachers, and parents can have a positive interaction in support of learning.
---
Maria's tutor has helped her to lose her fear and become more confident with herself. Now, she can ask easy questions, she can talk in public, and she can even write simple sentences. Maria has improved her English skills a lot because when she started studying with the Literacy Connection, she couldn't express her opinions at work, she couldn't understand her supervisor when he talked, she couldn't understand a movie, and she hardly communicated with her tutor. Now, she can speak a little bit of English at work, she can understand sixty percent of a movie, she feels more confident asking and answering questions to her supervisor, and she can communicate better with her tutor. Maria doesn't have words to show her gratitude.
---
About the Author
Patricia is a student from Elgin Community College. She is taking ESL and English 101 classes there. Patricia is from Mexico, and she has been in the USA for eighteen years. Patricia lives in Elgin IL, and she has been married for seventeen years. Patricia also has three children and a cat. "Studying English," Patricia said, "it has been very difficult." Also, "Taking English 101 class has taken a lot sacrifice," she said. "It has been a challenge." Although Patricia has had a lot struggles trying to learn English, she has learned a lot of things about grammar and has improved her English skills, too. When she finishes her classes, she wants to study a small career and to continue studying English by herself.
---
Mirian is a good example of the positive impact that Literacy Connection has. She came to the United States about three years ago from Venezuela. She is a widow, retired, and pensioned from her native country. Mirian is a loving grandma, who came to the United States without any basic knowledge of English...She wanted to continue her education in this country and be able to communicate with other people. Mirian refused to continue being isolated from her surroundings. She started to work at a nursing home in the laundry department. "Sometimes I did not know that my manager calls me for the intercom," she recalled. She could not understand and did not respond to her manager through the intercom. Even when the residents from the nursing home came to her department looking for some extra liners, she needs to guess it in order to provide the items for them. Mirian never gave up. She tried to learn English by herself often she ask her granddaughters to translate for her the cartoons, the movies, or the news. Her persistence to improve day by day brought her to Literacy Connection of Elgin in Elgin, Illinois.
---
About the Author
Judy is from Mexico. She was not the sharpest child, but she is persistent. She started to learn English in elementary school. Judy was a commute phone operator, caregiver, babysitter, office assistant, package handler; she is a daughter, mother, wife, worker, student, volunteer, leader, supervisor, and manager. She would like to be a teacher assistant, a college step stone for her children, and an owner of a company. Judy works in the twilight shift during the week, she attends English 101 and ESL 10 during mornings, and in Fridays she volunteers at her child's school as a Teacher Parent Assistant. Judy took her General Education Development proficiency in Spanish, and the Constitution test years ago. She also attended a literacy program in Palatine. Even though she sometimes feels tired and stressful, she does not give up, and takes a big deep breath and gets up from the chair to continue her journey.
---
Rosa thinks that The Literacy Connection is the place where she feels free to speak and write essays with her tutor. Rosa knew of the Literacy Connection because Rosa's sister gave her a booklet that contained information about the classes offered at the organization. She took classes so she could become less dependent on her daughter. Sometimes her daughter didn't have time for her, or she was working when Rosa needed her. Rosa has taken classes for two years and has enjoyed the experience of taking classes. She said that it was the best decision she ever made. She likes the fact that she has her own tutor. The advantage is that she feels confident when she speaks with her tutor because when she makes a mistake writing, her tutor is always patient and can explain how to do things the right way without hurting her feelings. Now Rosa is more independent and confident. She goes to the bank, makes payments for the mortgage, makes appointments with her doctor, and returns items to the store. She thinks the Literacy Connection helps people to incorporate into the society and helps students to succeed at work.
---
About the Author
Maria G. is a writer in-training and has a wide variety of interests. She is a student at Elgin Community College, and she has taken classes for five years. She came from Mexico, and she has been living in the United States for 22 years. She is married for 10 year and her husband Peter is a wonderful person. "Taking English 101 is stressful," she said. "It has been a difficult course." She is happy because she made it to the end of the course. Maria said her goal is to continue taking classes at the College. She is a smart, quiet, and honest person. Also, she enjoys cooking and reading books. "Reading is relaxing," she said, "It is fun."