20th Annual Trivia Bee Fundraiser 2017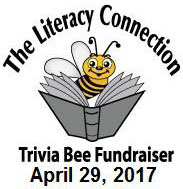 Saturday, April 29, 2017
Team check-in begins at 8:30 a.m.
Event starts at 9:30 a.m.
Grand Victoria Casino in Elgin
Register a Team
Support a Team Member or Team for Team Challenge
Sponsorship Opportunities
Donate and Help Us Surpass Last Year!
Teams are gearing up to compete in The Literacy Connection's 20th Annual Trivia Bee Fundraiser, which takes place on Saturday, April 29, from 9:30 a.m.-12:30 p.m. at Grand Victoria Casino in Elgin. The agency is looking for teams to join the competition. In order to be acknowledged in the event program and pre-event publicity, the deadline for online registration is April 24, 2017. Teams are comprised of no more than four members. Prizes are awarded to the top three teams. Registration is $400 per team. Individual groups, businesses, or employers can sponsor a team to participate.
Grand Prize raffle tickets will be on sale soon and on event day. Please call 847-742-6565 for more information. Winners need not be present. Tickets are $10 each or 3 for $20. Prizes to be announced soon!
The event will also feature a gift basket raffle. Local businesses are encouraged to make a donation to support this popular part of the event. The agency is accepting gift cards to restaurants, stores, spas/salons, entertainment venues, etc., as well as fine-quality gifts such as gourmet foods/candy, bath and body products, gifts for the home, and more.
Listen to an interview from STAR 105.5 FM with Stew Cohen about Trivia Bee below.
---
More than 70 adults are waiting now for a tutor to help them learn English and change their lives.
Tutor training sessions are scheduled through May 2017. See the Tutor Training Schedule and sign up today.
---
A Learner's Success Story – Aurora A.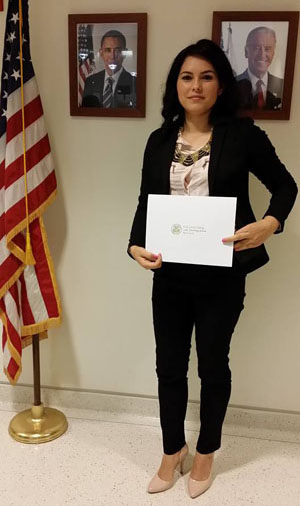 Adult learner Aurora A. is building her new life. While she is raising her two children, she is learning English and achieving her goals.
A friend told Aurora about the Literacy Connection program. Her friend described the benefits and how this program helps students with individual or group tutoring. When she finally had a tutor assigned, she was concerned about how this person would be, and moreover, if she would be really interested in helping her.
To Aurora's surprise, Vikki, her tutor, helped Aurora from start to finish with obtaining her citizenship. In fact, Vikki found an organization that helped fill out the naturalization application form, found an anonymous donor to help pay the fee, and helped her prepare for the interview. Vikki accompanied Aurora to take the citizenship test, and to appear at the Oath Ceremony in Chicago.
Even though Aurora is still in the process of learning English, she now has a voice, and she voted in the last election. Now, she has a new goal: to obtain her GED. For this new goal, she will continue to need her tutor's support, to improve her English, and continue to build her new life.