Additional Training Topics for Tutors
Using Technology with Adult Learners
This session provides tips for using technology with your learners during and between tutoring sessions using cell phones and computers. Links to sample lessons are included. For novices, there are activities you can learn to do together.
Conversation Strategies
This session provides tips for working on conversation with more than one learner. This can include two learners, a small group, or for conversation groups.
Health Literacy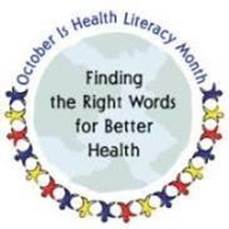 CURRICULUM & RESOURCES
Staying Healthy is an award-winning curriculum that is used throughout the United States. It is written at a 4th-5th grade reading level and is suitable for low intermediate level ESOL learners and above. The newly-released Staying Healthy for Beginners is written at a lower reading level, making it more accessible to learners at the high beginning level.
Coping with Stress and Women's Health books and Staying Healthy videos are also available on the website.
Health is important at any age. Discuss a variety of important health topics with your learners, from menu-planning with the food pyramid, to visiting the doctor, taking the right dosage of medicine, or coping with stress, etc.
Financial Literacy
From time to time, the Literacy Connection holds free financial literacy training for learners. Help your learners become "Money Smart." Share information with your learners on any of the following topics:
Safety
Visit the national Home Safety Council's website or choose a link below to explore and share important safety tips with your learners.
ProLiteracy Education Network
Free Resources for the global literacy community.